Unlocking the Real Impact of Employer Branding
In today's corporate landscape, the pursuit of talent has evolved into a complex and highly competitive endeavor. In this quest for the best, companies must not only attract but also retain top-tier professionals. At the same time, all kinds of investments are now under thorough scrutiny due to global economic challenges and cost cuts. How to make sure you put your money into the right area of employee experience? How to measure employer branding field and set right priorities not to burn money spent on this? Recognizing the challenge, digital agency Performante, has introduced a systematic and measurable approach to Employer Branding (EB) with their EB Radar method. This tool helps to reshape how companies strategize and execute their Employer Branding efforts, bringing comprehensive, data-driven insights together with a visual appeal to the forefront.
A 360-Degree Perspective on Employer Branding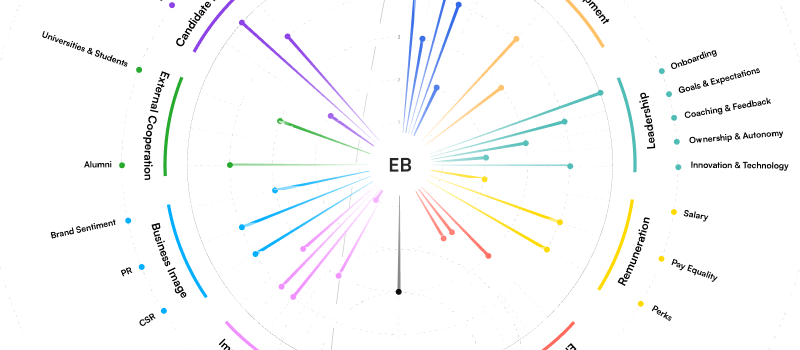 Employer Branding has undergone a transformation, shifting from a peripheral HR function to a pivotal element of an organization's identity. It is no longer just about catchy slogans and employee testimonials. It's about creating a consistent, authentic employer image that resonates both with current and future employees.
EB Radar takes on this challenge with a holistic perspective. It offers an in-depth analysis of all aspects related to Employer Banding in and around the organization, analyzing it from both internal and external perspectives. This comprehensive evaluation is the foundational step in crafting a credible and effective Employer Branding strategy.
People Are The Core of The Process
EB Radar evaluates various dimensions, including company culture, employee satisfaction, candidate experience or public perception. But what is crucial, most of the research happens with participation of employees.
It's obvious that there's no credible and authentic Employer Branding if it's not based on hearing people who work in the organization and taking their voice into account. There is no one else who knows the company's environment better than its employees. To come up with an authentic EVP, to improve employee experience and engagement, to take actions where they are really needed, you have to know what your employees really feel and think.
The Clear Way to Picture Data
In today's fast-paced corporate environment, effective communication of data is crucial for informed decision-making. EB Radar not only provides valuable insights but also presents them in an clear visual format.
This visual approach proves invaluable when engaging with diverse stakeholders, from HR professionals to the top management especially. The visually compelling form of a radar chart facilitates a clear understanding of the findings, making it easier for decision-makers to identify strengths and areas that need action.
Context is what matters
But EB Radar doesn't just leave you with the collected data. It puts the results of the analysis in the context of the whole organization. This allows to perform a specific interpretation of the results in the light of company's overall strategy, goals, culture, and industry.
In addition to the visual presentation of the results, EB Radar brings a comprehensive report with the description of the analysis, results, and discussion of the results. This serves as the starting point for shaping customized strategy and tactics. This helps set right priorities by connecting the dots from different perspectives, groups and levels of the organization.
EB Radar ensures that the proposed actions are precise, backed by data, and seamlessly align with the organization's objectives and resources.
Performante has designed EB Radar to serve to a wide spectrum of professionals within an organization, recognizing that Employer Branding is a collaborative effort.
Employer Branding Managers and Specialists, who are responsible for crafting and executing Employer Branding strategies can use EB Radar to refine their approach, identify gaps, and create data-driven campaigns. People&Culture teams can use EB Radar to harmonize their hiring and talent management practices with the organization's employer brand, ensuring consistency and resonance. Talent Acquisition Specialists involved in recruiting top talent can benefit from EB Radar's insights to attract candidates by using it as a guideline in creative recruitment campaigns. EB Radar's visually appealing reports can provide the top management with a comprehensive overview of the organization's Employer Branding status, aiding them in making informed decisions regarding resource allocation and strategic direction.
The Path Forward
In a world where not only talent acquisition, but also talent retention is a competitive advantage, Performante's EB Radar emerges as a tool that empowers organizations to make informed, strategic decisions about their Employer Branding efforts, ensuring they resonate with the target talent groups.
To harness the full potential of EB Radar, organizations should consider the following steps:
Engage with Performante: Reach out to Performante to discuss how EB Radar can be tailored to your organization's specific needs and objectives.

Implement Recommendations: Act on the insights and recommendations provided by EB Radar. This may involve working on specific areas of the company culture, enhancing some elements candidate or employee experience, or optimizing external communication.

Continuous Assessments: Employer Branding is an ongoing effort. Companies need to monitor the effectiveness of their strategies, adapt to changing circumstances, and maintain a competitive edge in the talent marketplace.
In conclusion, Performante's EB Radar is created to simplify and structure the holistic approach to Employer Branding. By offering a 360-degree perspective, recommendations based on data and context, as well as clear visual representation of the results, it equips businesses with the tools they need to stand out in the talent marketplace. Whether you're a seasoned HR professional or a member of the executive team, EB Radar is your compass for navigating the complexity of Employer Branding successfully.