A synergistic approach in cooperation with Biedronka | Jeronimo Martins. A case study through the eyes of a creative copywriter.
Where is the opportunity in cooperation with one of the largest companies in Poland? Since we are talking about Jeronimo Martins, the owner of the "Biedronka" store chain, my copywriter's nature tells me to immediately look for some nontrivial, vegetable-fruit comparison. It won't be easy, but I will try. Let us imagine that we are cordially invited to a magnificent table, piled up with the most beautiful specimens of vegetables and fruits. The host then asks us, to the best of our knowledge and taste, to prepare fresh, surprising, and nutritious dishes for different audiences.
No "reheating" old formats nor unearthing traditional recipes. All eyes are on you, and the expectations are high – they expect you to demonstrate a fresh approach to various employer branding aspects and make the way to the hearts of the industry's best candidates through their stomachs.
When facing such a challenge, you not only mobilize all your resources, but above all, you invite the entire team to join you in the kitchen. You methodically divide among yourselves the various stages of creating these culinary art masterpieces. This somewhat humorous analogy, contrary to appearances, has a lot of truth in it and perfectly captures the spirit of our cooperation with Jeronimo Martins, arranged into quite a sophisticated menu: an extensive EB strategy for Biedronka's IT department, the creation of the visual identity, name, and communication of the Management Trainee program, and the image and recruitment campaign of the "fruitful Holidays" summer internship program for students.
The list of our showpiece dishes continues to grow, as befits a successful cooperation.
Since every proper story of victory begins with challenges and difficulties, our case would be no different. Leaving aside the obvious, meaning the scale of our client's operations and the prestige of this cooperation, followed by exceptional responsibility, each project raised additional issues, demanding a solution. The summer internship program seemed like a graceful topic, and its name – a copywriting and graphic sure-fire hit, but since a lot has been said already when it comes to creations referring to fruits and vegetables in other campaigns for Biedronka, it was a big challenge (and a pleasure) to look for less evident associations. Thanks to the client's clearly outlined direction in which the campaign had to develop and precise feedback, we were able to deliver a distinctive, light, but also – substantial (just like fruit) creation with slogans like "Mierz wySOKo" (meaning: "aim high", highlighting in the word "wysoko" the "SOK" part, which in polish language means "juice"),
"Znajdź Twoje wakacyjne menu" ("Find your summertime menu"), "Orzeźwienie dla Twojego CV" ("A refresh for your resumé"), or "Pełnowartościowa wiedza" ("Wholesome knowledge"). That is, the kind we like best.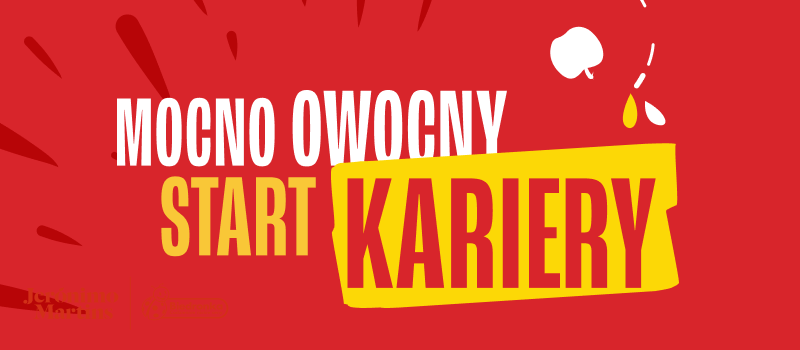 Biedronka's Management Trainee Program has been functioning for more than 26 years, offering careers within the company's structures after a prior 2-year training at many levels and in many areas. It stands to reason that only a few of the most determined and motivated final-year students will be up to the task. How to recruit them as not to scare them away but to emphasize the prestigious dimension of the Program? How to give the whole thing a consistent but also light image coupled with the image of the Biedronka brand itself? In the case of this project, we (co)operated across many competencies. Again, a significant role was played by the client and by a precise vision combined with our expertise and creativity. By creating the concept "Świeżość ma przyszłość" ("Freshness has a future"), we opened a field of associations with the brand (vegetables, fruits, growth, bloom), but also provided specific information on the recruitment itself and what the training course and career paths of the participants would look like.
To this end, we built a dedicated communication platform, a three-stage social media publication plan (teaser-reveal-last call) and produced a series of videos and podcasts with participants from previous editions of the program, giving a strongly "insider" but also credible and vivid perspective.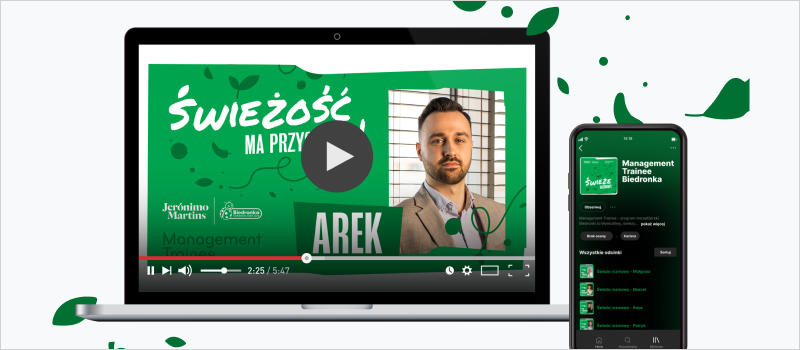 Interested in the project's details? Take a look at our case study.
Last but not least – an EB strategy for the IT department mentioned before. Even though creating communication for developers and system architects consistently remains a very graceful and "opening" topic, in the case of Jeronimo Martins, it also had a strong taste of challenge.
Why? Although the brand itself does not need to be introduced to anyone, there are still many people who do not realize that behind the fluidity of multi-level processes inside and outside the organization, there is a powerful interdisciplinary IT team. To introduce the team to the world from the side of competencies and the purely human side? To tell the story of complex systems in simple terms? To encourage talent from the market to join the team, and at the same time not lose the typical IT communication slack? Challenge accepted! The concept of "We do great things. Deal with IT" was a challenge thrown to the industry – emphasizing the scale of operations, the leadership position, and the fact that being that leader goes along with being a "pioneer" of solutions and that it is in the DNA of the brand.
"We do great things" also serves as a perfect metaphor for our agency work. The campaign for Biedronka's IT was an extensive, epic project that included: research, scoping sessions, focus studies, derivation of EVPs, creative concept, a landing page project, social-media communication, and videos and podcasts with employees. Through a great casting work, the client selected incredibly interesting, colorful, and prominent people for the production, which made working with them not only a pleasure in terms of the quality of the material but also on a purely personal level.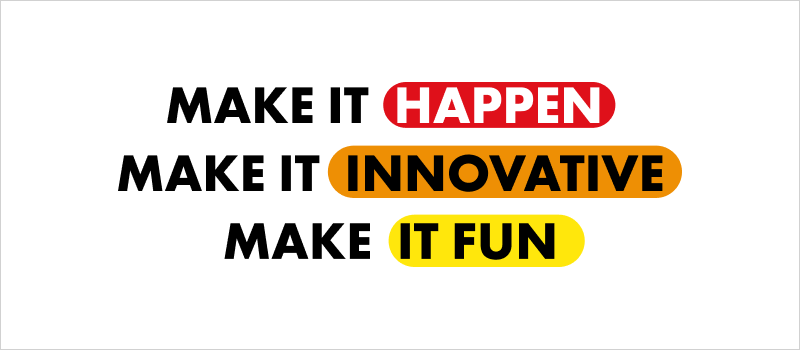 Want to know more about that project? Check the case study.
The projects mentioned here are a background for the main plan, which is our "synergistic" approach to our operations. What makes it up? What makes us able to flexibly calibrate our talents to smaller projects, like seasonal campaigns, while implementing multi-level EB strategies and monitoring their results? We are not going to say here that we have taken care of the core competencies in our agency in each of the departments that are important from a marketing point of view – strategy, creation, and performance. This is obvious. On the other hand, it is worth emphasizing that our synergy is not only due to the coexistence of these competencies but, above all – to their mutual interpenetration. From excellent cooperation, respect, and the ability to inspire each other to creative solutions. The individual points of the project are not a relay that we pass from hand to hand, but rather a joint monitoring of the bigger picture, examining its weaknesses and looking for answers on how to improve them.
From the synergy of competencies, a synergy of services is born. Thanks to that, we were able to offer our client not only a comprehensive strategy based on research, but also its derivatives – such as the design of personalized gadgets (IT campaign) or animations and podcasts (IT campaign and for the Management Trainee)
The second important aspect is the experience of our specialists, not necessarily counted in years, but in projects, which enables detection and understanding of client needs. We invariably work on client service excellence, from which everything else originates. The trust we built in the case of Jeronimo Martins was based on the creativity of solutions and flexibility in action, but also, and just as importantly, attentive, empathetic, and listening-oriented client service.
The third, extremely important aspect, connected with the previous point, is, undoubtedly, the attitude of the client themself. We were truly fortunate that the decision-makers on the Jeronimo Martins side in each mentioned project had clear expectations, provided all possible information at the outset, and actively contributed to the process, adding value to our proposals.
The effects of cooperation based on multiple synergies prove the validity of this approach. The campaign for the IT department: "We do great things. Deal with IT", was highlighted by Bulldog Job as one of the most interesting IT campaigns of the past year. Management Trainee turned out to be more than a one-season "harvest" for us – we worked on its continuation, as well as on "Owocne wakacje" (Fruitful Holidays), and the scope of work for Jeronimo Martins expanded, for example, with HR podcasts.
Listen to our podcasts created as a part of the "Biedronka is US" channel on Spotify
The year 2023 (and hopefully the years to come as well) is a year of various synergies for Performante, which define our method and account for the success of our operations.
These synergies reassure us that we can boldly reach out to well-known brands and create solutions for them that resonate not only among candidates but also in the industry. The examples cited here show how our Perfo-synergies have resulted in long-term and multi-level cooperation with Jeronimo Martins. Of course, we are aware that each successive campaign or new edition of a campaign is increasingly challenging to find something fresh in communication. Nevertheless, thanks to the synergy of self-confidence and the joy of searching for fresh solutions – we are ready for it.